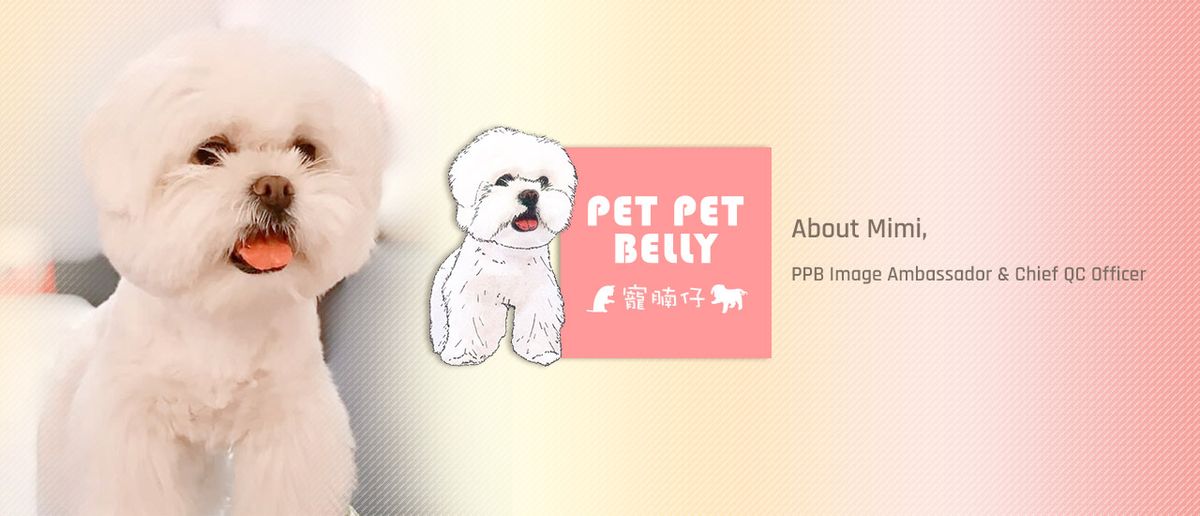 (中文請往下閱讀)
I can never forget the freezing day right before Chinese New Year when Mimi and I met on the street. I spotted the poor little girl covered in dust hiding in a bush. When I got closer, she walked out of the bush slowly and lay down in front of me.
Just as she let me pet her belly and pick her up, I made a promise to myself that I needed to give her a forever home if she was indeed a stray.
On our way to the vet, she kept shivering but kissed me several times as if she wanted to show her love and appreciation. Even until today, that touching moment is still so vivid in my memory.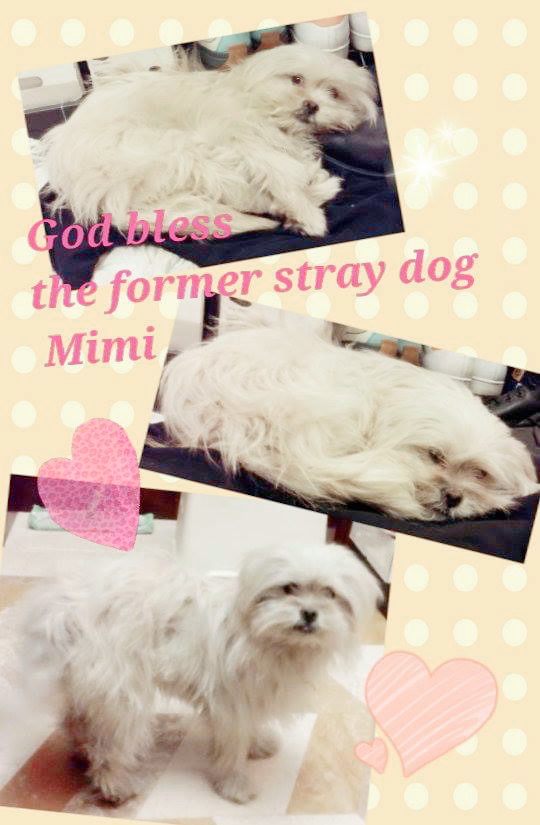 The vet could not locate any microchip or record on Mimi and unfortunately found that she was infected with Canine Parvovirus 2. As the infection had become very severe, not only the digestion system could not function properly, her bloodstream and lymphocyte were also damaged. The probability of dying was 80%.
After 7 days of panicking, I was overjoyed at the vet's good news. Mimi was no longer in critical condition and reacted to the treatment well.
There is always "miracle" as long as we got faith! This was how Mimi got her name.
(Mimi was fully recovered afterwards and no longer carries the virus.)

After 1 more month at the hospital, Mimi finally arrived home with a bit of timidity and a lot of excitement. She was still recovering and did not have very good appetite, so I mixed canned food with kibbles for her. However, the side effects started to surface after a while. She started to have breath and stool problems and would itch-scratch and itch-bite to the extent that her skin bled and her paws inflamed.

I could not believe as someone who grew up with dogs and cats, I did not recall that my parents used to make family pets fresh meals in Taiwan and in the States. So I started to feed Mimi boiled chicken breast with rice and was glad to see her itchiness and tear stain disappeared after two weeks. Breath and stool issues were also resolved after one month. There was only one but serious problem left: her latest blood test indicated minor nutrient deficiencies.
With the help from a veterinarian and nutritionist team in the States, we came up with a series of well-balanced recipes each with more 10 fresh ingredients.
Just several months afterwards, Mimi's coat became shiny and silky, her body became more toned with increased muscle weight, and her energy level was obviously improved.

All the readings from Mimi's follow-up vet visit significantly improved and fell in the normal range. Over the years, Mimi has become very healthy and strong. She has been transformed from a 9-pound skinny dog that had trouble putting on weight to a 19-pound healthy girl with very toned body.
My friends thought Mimi's transformation was quite amazing but were too busy to consider cooking everyday, so that I started to help a few friends enhance their babies' health condition with the wholesome formulas a few years ago.
Being able to evidence the health improvements has been extremely rewarding. With the belief that the fresh meals and treats are the best for dogs and cats, I went back to the vets and nutritionist in the States to improve the formulas so that they would be suitable for most pets in Hong Kong.
Although it took over a year to prepare PetPetBelly to better serve the public from getting well-balanced recipes in place to inviting experienced food servicing manager from the States, the preparation was more than essential to us since our promise is to treat your loved ones as our own with the best products and services.

We hope PetPetBelly would be the platform where all loving pawrents may receive assistance in enhanced lifestyle and wellness of all furry babies. May we all have more quality time with our loved ones. ❤

我永遠都忘不了五年前在街頭上巧遇了Mimi的那一天。二月農歷新年前夕非常地寒冷,當時她正躲在樹叢裡顫抖。慢慢靠近的時候,她不單止沒有逃跑,反而還翻過身子給摸她的肚肚。
就在那一刻,心中決定了如果她是浪浪,一定要給她一個永遠的家。
很清楚知道如果Mimi是走失的話,她的家人一定很焦急難過,所以之後立刻抱著Mimi去獸醫,看看體內有沒有晶片。在途中Mimi時不時抬頭親吻著我的臉,小小的身體一直發抖,但舌頭卻溫溫的,好像在傳達她暖暖的愛和感激一樣。
後來獸醫發現Mimi身上沒有任何晶片,應該是一隻被遺棄的小可憐。很不幸地,醫生同時也診斷出Mimi當時患了一種叫犬細小病毒的急性腸炎感染。因為已是後期,整個腸道系統基本已經嚴重發炎並停止運作,血液和淋巴系統也已受到傷害,所以有8成的死亡機率。

經歷了一個煎熬的七天,醫生說Mimi終於脫離了危險期。再之後在獸醫診所開始了一個月的康復期。
Mimi的名字就是這樣得來:Miracle。只要有信念,奇跡就會發生!
(Mimi隨後已完全康復,並不再帶有此病毒)
Mimi終於回家了。她有點好奇,但也容易被嚇到。剛開始到家的時候,可能是因為剛康復的腸胃病毒的問題,不太肯進食,只能嘗試給她一些狗罐頭拌乾糧來提起食慾。 但是過了一段時間,後遺症開始慢慢浮現,口腔開始有口臭丶排泄物偏軟和偏臭,而且更甚的是皮膚出現痕癢,經常性不停抓癢而導致皮膚破損和腳掌發炎。
從小和貓狗長大的我,想起了在台灣或美國的家裡都是給他們鮮食,因此開始水煮雞胸加白飯給Mimi。兩星期後,Mimi再也沒有抓癢,之前的淚痕也沒了。過了約一個月之後口腔和排泄物的臭味也改善很多。唯一就剩一個但是嚴重的問題:Mimi再次到獸醫診所複診的時候,發現她因為營養不太均勻,有些指數低於標准。
因此特別聯繫了美國營養師和獸醫,一起研配一系列營養均衡并包含十幾種新鮮食材的健康餐單。
依照這一系列餐單准備餐點幾個月後,除了沒有之前轉鮮食前的問題,Mimi的毛髮變得更為光澤和柔順,身體肌肉逐漸增加,精神也明顯好很多。
後來Mimi再次重臨獸醫診所做健康檢查,她的驗身報告指數優化至標准水平。過去的幾年,Mimi變得非常健康和強壯。從一開始怎麼吃都不吸收並營養不良的9磅,慢慢增加到充滿健康肌肉的19磅。
身邊的朋友看到Mimi的案例,都覺得很神奇,但又沒時間自己烹煮。所以幾年前也開始幫熟悉的朋友一併烹調這一系列的健康餐單,從而令他們的寶貝健康得到改善。
看到這些改變,是真心地感到非常開心。
儘管從準備均衡的食譜,到邀請在美國經驗豐富的食品服務運作經理,準備寵腩仔花費了一年以上的時間。但對我們而言,這工作至關重要。因為我們的承諾是以將您的毛孩視為我們自己的寶貝的態度,來提供產品和服務。

成立寵腩仔也是希望將這一系列優質的健康餐單帶給所有疼惜寵物的愛心主人。希望能讓更多的貓貓狗狗們能健康快樂地生活,更多優質幸福的時間和心愛的家人們互相陪伴。❤
Founding Partner—Clare